Back
Prepaid Phone Card - Cheap International calling card $5.00 for India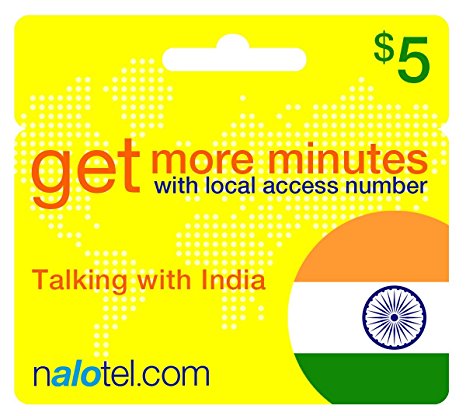 Prepaid Phone Card - Cheap International calling card $5.00 for India
$5 00
NALOTEL INTERNATIONAL CALLING CARD is designed for any life changing events such as: Students; Military; Missionary; Travel; Nanny-AuPair; Immigrant; Business. CHEAPEST RATES FOR DOMESTIC & INTERNATIONAL CALLS - View our low rates by visiting Nalotel.com or call 1888.349.7986. EMAIL DELIVERY -You will receive an email with access numbers and your personal PIN to call from USA and Canada. PIN-LESS DIALING - Enter your PIN only on the first call, all future calls from the same numbers are pin-less. NEVER EXPIRES - Your balance will NEVER be depleted if you choose AutoTopUp for your next orders. TRUE MINUTES - This calling card doesn't charge you connection or maintenance fees. ASSURANCE - Order with confidence, backed by our 100% money back guarantee, no questions asked.
Calling Card - PIN will be delivered on your Email.
This calling card is used to make domestic & international phone calls!
You will receive an email with access number and PIN to call from USA, Canada, Greece, Romania or Israel (more countries at customer request or visit nalotel.com).
If you have any questions or want to report an issue feel free to call our team at 1888 349 7986.
ACCESSIBILITY Auto-recharge - recharge your account automatically as soon as it drops below the minimum amount you setup.
Speed dial - with this feature you can save frequently dialed numbers to speed-codes and they will automatically dialed for you.
PIN less dialing - call easy if you register your phone number with Nalotel.
Account management - you will receive a personalized online account management.
QUALITY Cheap international calling rates - we connect international calls via local phone lines so you will always get the best calling rates.
One minute rounding - means that a call for 2 minutes and 50 seconds will be billed as 3 minutes.
Premium call quality - we are constantly monitoring phone lines to give you the best call connection.
Quick connection - we have optimized your international calling by connecting them trough local phone lines.
Local access number - means that instead of using a toll free number to dial into our system to place a call, you dial a local number in your area code, for cheaper calls.
Toll Free number - This is a nationwide free of charge access number that you dial to start using a phone card. You can use them from any phone (a charge of ¢1.6 per minute will occur).
RELIABILITY No hidden fees - we don't like paying hidden fees more than you do, and that's why we don't charge them.
The rate you see is the rate you pay.
No connection fee - we don't charge to connect your international call, you only pay the advertised price.
---